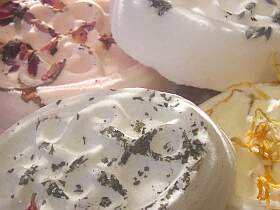 A both bomb by any other
name fizzies just as well.
Aromatherapy bath fizzies
containing sunflower oil
and sodium bicarbonate to soften.
Just add a tablet to a warm bath and relax.
Fragranced with essential oils of Peppermint, Rose Geranium, Mandarin,
or Lavender and containing Peppermint Leaves, Calendula Petals and
Lavender Buds respectively depending on your choosen fragrance.