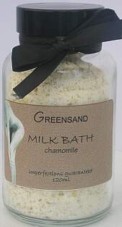 All natural soothing milk bath containing 30%
goats milk and a soothing combination of
oatmeal and essential organic oils.
Just add a scoop of the salts to a warm bath
and soak your troubles away. The wonderful
properties of the milk with it's rich proteins, vitamins and mineral content will soothe and relax your whole body.
Fragranced with essential oils of Mandarin and Vanilla, Rose Geranium and, Lavender and Chamomile and containing   Calendula, Rose Petals and, Lavender Buds and Chamomile Flowers respectively, depending on your choosen fragrance.