Investing in new double glazing is a big decision, so it's important to choose windows which are of the highest quality.
Coloured uPVC windows certainly fit the bill. Made from relatively inexpensive raw materials and easy to manufacture, they are much cheaper to buy than those made from aluminium or timber.
Although white upvc windows continue to be the most popular window style with UK homeowners, there is a growing trend for coloured UPVC windows – fuelled partly by industrial-inspired architecture and TV programs like Grand Designs.
The aim of this in-depth article is to explain how they are made and try to help answer the question…
How much do coloured upvc windows cost?
Based on a like-for-like window, opting for a coloured UPVC window instead of a traditional white one will increase the cost by around 15% to 20%.
But don't forget that UPVC double glazing is much cheaper than some of alternatives. For example, UPVC windows and doors usually cost around 50% less than aluminium and 100% less than timber windows (on a like-for-like basis).
If you are considering fitting replacement double glazing or new coloured uPVC windows, you also need to take their size, style and design into account.
Here's why…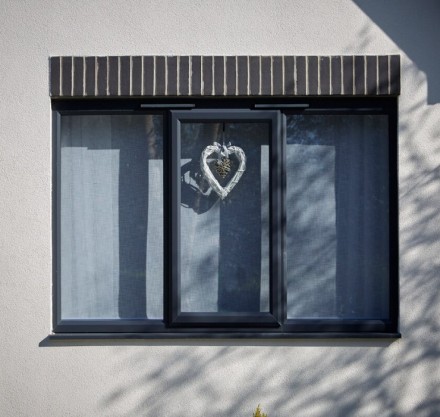 Understanding the UPVC windows manufacturing process
Before trying to work out whether the amount your coloured upvc windows cost is good value for money, it's important to know a little bit about how they are manufactured.
What is UPVC?
A hard-wearing material which is widely used in the building and construction industry, UPVC is an abbreviation for Un-Plasticised Polyvinyl Chloride – a rigid vinyl polymer that can be easily shaped and formed.
Coloured upvc window frames are made from long chambered sections of UPVC, known as profiles, which can also contain lengths of galvanised metal to add structural strength.
Because UPVC is a good insulator, it's ideal for the manufacture of double glazing – and will reduce condensation and noise, as well as looking great.
Here at EYG, every one of the coloured upvc windows we manufacture are made by chemically bonding the colour with the UPVC material. This ensures the colour does not fade or discolour and provides a tougher more durable surface with a longer lifespan.
There is a cheaper way to manufacture coloured UPVC windows, which involves numerous layers of paint being sprayed onto a white frame using lacquers, before being heat treated or 'baked'. Some manufacturers use this technique to reduce the cost of each unit they make, but we do not offer this product in our portfolio because we believe the finish is not as robust or hard wearing.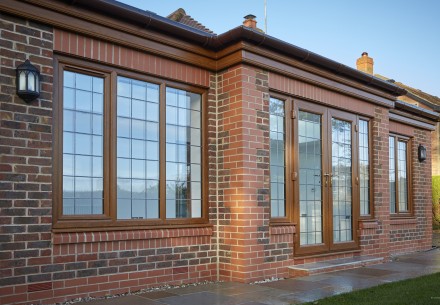 Why is the coloured upvc windows cost dependant on colour choice?
Now that you know how double glazing is made, it's important to understand why the colour you choose will also influence the price you pay.
As you would expect, your coloured upvc windows cost will be influenced by whether the colour needs adding to both the inside and outside. The cost will also vary depending on the type of colour you choose.
Although there are more than 200 RAL colours to choose from, these can effectively be broken down into three categories.
Level 1: Standard colours
Level 2: Non-standard colours
Level 3: Bespoke metallic colours
Obviously, the amount you'll pay per window depends on which bracket the unit falls into under the above three-tier pricing structure – with the price increasing from Level 1 up to Level 3.
Why are there so many variations in replacement window prices?
The reasons there are such wide variations in double glazing prices is usually because of differences in specification such as style and size.
The important elements to take into consideration when weighing up your coloured upvc windows cost are:
Style: Window prices are largely determined by the style you require. Expect a casement UPVC window to cost around 50% less than a sliding sash window with the same measurements because the latter is more complicated to design and manufacture.
Size: The double glazing cost per window depends on the size of the unit. As you would expect, a window measuring 1800 x 1200mm will cost a lot more than one which is half its size.
Fitting costs: Labour costs obviously vary depending on where you live and this will impact on the final cost. As a general rule of thumb, the more windows you get fitted at one time, the more cost effective it becomes.
Non-standard shapes are more expensive than non-standard: If you want arches or ovals, they're going to cost more than a simple square or rectangle.
What handles and hardware do you want? If you want something a bit more bespoke, it may cost more than a standard single-handled lever.
Do you need air vents, grids or internal window sills? All of these extras add to the cost and are often not factored in to the price by online retailers.
What glass detailing finish do you want to be applied? Opting for a double glazed window with Georgian bars or lead lights will increase the cost.
Is toughened glass needed? Any window frame which is 80cm or less from the floor must be made from toughened glass. In the event of the pane being broken, it will not shatter and instead breaks up into harmless crystals. Each toughened glass pane will add around 20% to the price of your window.