Bifold Door Materials
There are three main types of bifold doors, here we'll be discussing the pros and cons of each. Remember also, that the material you choose for your doors, rather than the design or anything else, is likely to have the largest impact on the overall price. As you would expect, the quality of each material impacts on every aspect of the doors, from how they look, to their maintenance and longevity. Whatever option you choose, bifold doors will be the most expensive option (compared to sliding or french doors), and the material you choose for your bifold doors will have a huge impact on the price, simply because they are so much larger than the other options. But, the old adage of "you get what you pay for" rings truer here than perhaps anywhere else!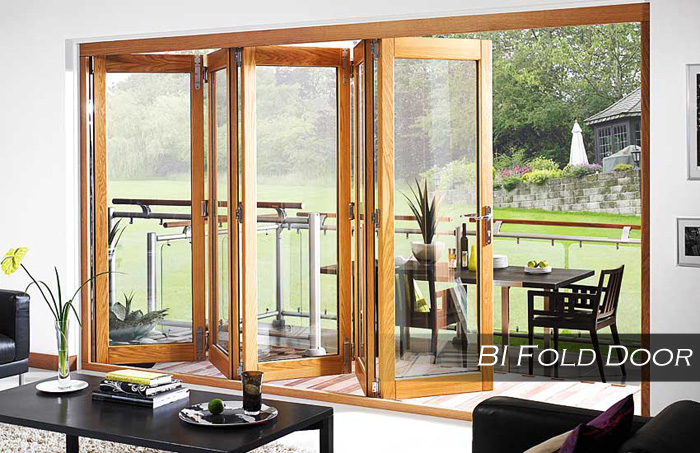 Aluminium – The strongest, and perhaps most popular choice. Depending on your budget, aluminium is definitely the best all-round choice for bifold doors, especially external bifold doors. The sheer strength of aluminium is its most obvious benefit, as the strength of the materials means the frames don't need to be quite as large, giving you more window space. It's also material that won't warp or bend when exposed to sunlight, so very little maintenance is required. Colour options are obviously a little more limited that with wood or UPVC, but they are nowhere near as limited as they used to be, and because they are more durable, they will look better, for longer, regardless of which colour you choose. The only real downside to aluminium bifold doors is the price, but when it comes to your home, why accept anything other than the best?
UPVC – If you're in the market for a low-cost option that will require little maintenance, then UPVC (Unplasticised Polyvinyl Chloride) is a good choice. Longevity is an issue with this option, though, as they can start to look dodgy within just a few years, gaining a yellow tinge. Opting for low quality UPVC bi-folding doors can cost you more over time too, as UPVC isn't the strongest material when compared to the other options. It can warp and bend over time, especially if exposed to sunlight. So. Whilst UPVC might seem like a cost-effective choice for bifold doors, if you're looking for exterior bifold doors, other materials will last for much longer. 
Wood – The wood used to build most bifold doors is generally timber, which is a very attractive wood that can be finished in a variety of stains or colours and still look surprisingly natural. The timber found in bi-fold doors is engineered from an 'engineered wood' made from a variety of different types of woods glued together in layers with polyurethane. This means the wood will be far more durable than conventional wood, though it will still retain some moisture, which can eventually lead to warping. Wooden bifold doors will also require more maintenance than aluminium doors, but a little less than UPVC.